The Mayo Mills
---
In the late 1800's cotton mill mania was spreading rampantly through the South. New mills were sprouting up all over the place; particularly, in the states of North Carolina, South Carolina, and Georgia.1 In 1880, the spindle capacity of Southern cotton mills totaled 667,754. By 1910, that figure had exploded to 10,650,000 spindles.2 The rise in popularity of Southern cotton mills happened for various reasons. For one, there was a growing demand for the coarse cottons that were being manufactured in the South. Congress had imposed high tariff taxes which made it not feasible to import goods manufactured of coarse cottons.3 Industrialists looked at the South through lustful eyes for its abundance of cheap land, cheap labor, its lack of labor laws, its close proximity to the raw material, water power to run the mills, and of course the railways for transporting goods.
By 1895, Colonel Fries had contracted a case of cotton mill mania. Perhaps he was feeling restless at his loan and trust company. No doubt, cotton was still in his blood from his days of working in his father's mill. Whatever the case, for his next endeavour he chose to build his own cotton mill. For his mill, he selected a location in Rockingham County, North Carolina, located about thirty miles from the towns of Winston and Salem. The mill was to be nestled between the Mayo River and the tracks of the Norfolk & Western Railway, the same railway Colonel Fries had helped build.
On July 1, 1895, corporate papers were drawn up for the mill at the Wachovia Loan and Trust Company in Winston. Colonel Fries was listed as President with William Cain Ruffin as Treasurer. In the following month, it was announced that the Mayo Falls Cotton Mill had been incorporated with a capital stock of $300,000.4
Colonel Fries' mill was constructed during 18965 and came to be known as The Mayo Mills. A dam of timber crib construction6 built on the Mayo River diverted the water necessary to create the energy for running the mill's machinery. When completed the mill had a capacity of 22,000 spindles. The outgoing products were cones of cotton yarns intended for use in underwear6 and hosiery.7 It should be noted that the Mayo Mills building stood for more than a hundred and fifteen years as a reminder to the roots of Mayodan before being demolished in 2014. The last textile manufacturer to occupy the mill was Tultex who closed the mill in 1999.
In front of The Mayo Mills a village formed with housing for the laborers, a company store, a Moravian church, and a post office.8 The village became known as Mayodan. The site was situated not far from where the Mayo and the Dan Rivers converge. The name Mayodan was coined from the combined names of the two rivers.7
Within a couple of years of operation, it was evident that The Mayo Mills wasn't enough to quell Colonel Fries's case of cotton mill mania. The following short article taken from United States Investor9, May 28, 1898 was indicative of things to come. Evidently, the idea for a "Mayodan mill No.2" had been a brainchild of Colonel Fries for a while; however, it seemed his next mill would become reality sooner than expected as business was thriving and his mill was unable to keep up with demand:
The prospective new mill at Mayodan, the new and prosperous cotton mill town at the confluence of the Mayo and Dan rivers, in western North Carolina, which the "Reporter" some time ago mentioned as a possibility of the future, will not be built very soon, certainly not this summer, if the owners of the present Mayodan mill recently built and now operated to its full capacity so successful, have to build it. Officers of the latter company stated to our correspondent however, that it is entirely likely that definite steps looking to the construction of Mayodan mill No. 2 will be taken in the early fall months of the present year, as the present mill is filled with machinery and has to run on extra and sometimes double time to fill its orders.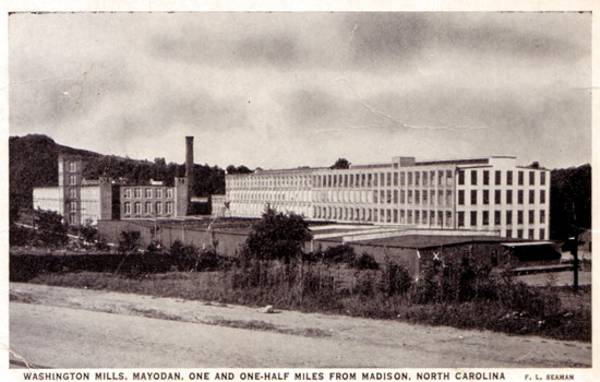 ---
1. Mitchell, Broadus, The Rise of Cotton Mills in the South (Baltimore: Johns Hopkins Press, 1921), 66.
2. Tariff schedules: Hearings before the Committee on ways and means, House of Representatives, vol. VI (Washington: Government Printing Office, 1913), 6122.
3. Cooper, William J., Jr. and Terrill, Thomas E. The American South: A History, Volume 2 (Lanham, MD: Rowman & Littlefield, 2009), 523.
4. "New Mills, Changes, ETC.," Fibre and Fabric: A Record of American Textile Industries in the Cotton and Woolen Trade (Boston) August 3, 1895.
5. Ashe, Samuel A., Weeks, Stephen B., and Van Noppen, Charles L. Biographical History of North Carolina: From Colonel Times to the Present, vol. 3 (Greensboro, NC: Charles L. Van Noppen, 1906), 141-51.
6. Swain, Geo. F., Holmes, J. A., and Myers, E. W. North Carolina Geological Survey: Papers on the Waterpower in North Carolina, Bulletin No. 8 (Raleigh: Guy V. Barnes, 1899), 111.
7. Fibre and Fabric: A Record of American Textile Industries in the Cotton and Woolen Trade (Boston) December 4, 1897.
8. Ninth Annual Report of the Bureau of Labor Statistics (Winston, NC: M.I. & J.C. Stewart, 1895), 73.
9. "Industrial News," United States Investor and Promoter of American Enterprises (Boston) May 28, 1898, 25.
Fig 4 - Seaman, F.L., Washington Mills, Mayodan, One and One-Half Miles From Madison North Carolina (unknown), location, Mayodan, NC, Postcard [from personal collection].